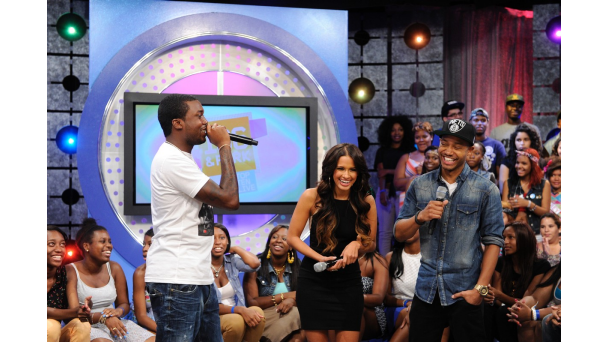 Rapper Meek Mill stopped by "106 & Park" yesterday where he apologized for the controversy his "Amen" song has called. Watch it inside and find out Nas' plan for the "Bye Baby" video.
Rapper Meek Mill appeared on "106 & Park" yesterday where he apologized for the ruckus his "Amen" song from church folk. He said,
"People find all types of stuff offensive. I don't think no preacher or no church approves of any type of rap music — because rap music, period, is a lot of bad stuff said. But at the end of the day, it's real life. And me, I wasn't trying to disrespect no religion or anything like that. My whole family is Christian. I have a half Christian, half Muslim family, the situation, the song, that's what energy it felt and if anybody feel disrespected, I ain't do it in that way."
So what's the intention behind the "Amen" and "Church…Preach" lines? He added, "I did it just because it was a good feeling — that's the feeling it gave me so I said, 'Amen, church. I didn't do it with bad intentions at the end of the day."
Watch the interview here:
And in other music news……………
Nas is set to film a video for his song "Bye Baby" which chronicles his relationship and eventual divorce from singer Kelis. He said, "The next thing we are going to shoot is "Bye Baby." I want it to be right there in the center of things I've seen and I want to share that."
But don't expect a typical "rap" video. Nas says he's a grown man and the clip will reflect that.
"What's ill man, is this is a record that kids are going to be like, 'I dont need this,'" he said. "We might not reach certain people. But I think we will reach the right people. I am a 38-year-old dude so I'm talking about life from that perspective. The next video you see will be based around a more advanced situatian than what you are seeing."
Mr. Jones will be stopping by "106 & Park" tonight as well.
BONUS:
Singer-songwriter Elle Varner has revealed the cover art and release date for her upcoming debut album, PERFECTLY IMPERFECT. The album drops on August 7th, 2012 . It will also feature an appearance from J. Cole on their "I Only Wanna Give It To You" single.