Tamia stopped by "Good Day NY" today where she belted out her latest track. Watch it inside and get deets on pop star Mariah Carey appearing in The Butler, and Emmitt Smith on "DWTS."
Musical chick Tamia dropped by the studio at "Good Day NY" today where she performed the lead single from her latest album Beautiful Surprise. And though her hubby (of 13 years) Grant Hill is in London today with First Lady Michelle Obama as an Olympic delegate, the couple will be honored at Russell Simmons' Rush Philanthropic "Art for Life" Gala in the Hamptons along with Mariah Carey and Nick Cannon tomorrow.
The fab chick was styled by Samantha Telfair for her performance where she wore a sheer leopard blouse by BB Dakota, pants by Tibi, and a black Hermes cuff.
Watch it here:
And in movies……
"American Idol" judge Mariah Carey (shown above in her official "Idol" promo pic) just signed on for Lee Daniels' The Butler which has begun shooting in New Orleans. Former "ANTM" star and actress Yaya DaCosta was also added to the cast.
The film is based on the true-life story of Eugene Allen, who worked as a butler in the White House from 1952 to 1986, serving under eight presidents.
Mariah and Yaya will join other YBFers like Forest Whitaker, Oprah Winfrey and Jesse Williams who've already begun shooting. And music for the film will be composed by the legendary Quincy Jones. This may be good…
And on tv…..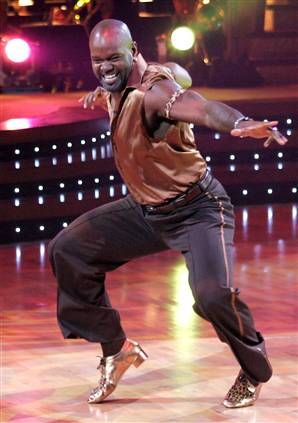 Season three winner Emmitt Smith will return to "DWTS" this season (Sept. 24th) for its "All-Star" edition. The NFL legend will be back on the floor dancing it up yest again. Unfortunately, he's the only YBFer returning… so far. There's still a chance Kyle Massey will get voted back on as well.
Get the full list of who's been announced so far HERE.
EXTRAS:
1. Amidst the huge controversy behind the fast fod chain's stance on gay marriage, the head PR person for Chick-Fil-A died today of a heart attack. STORY